New Linux User Declares Self Safe From Coronavirus
By Staff Writers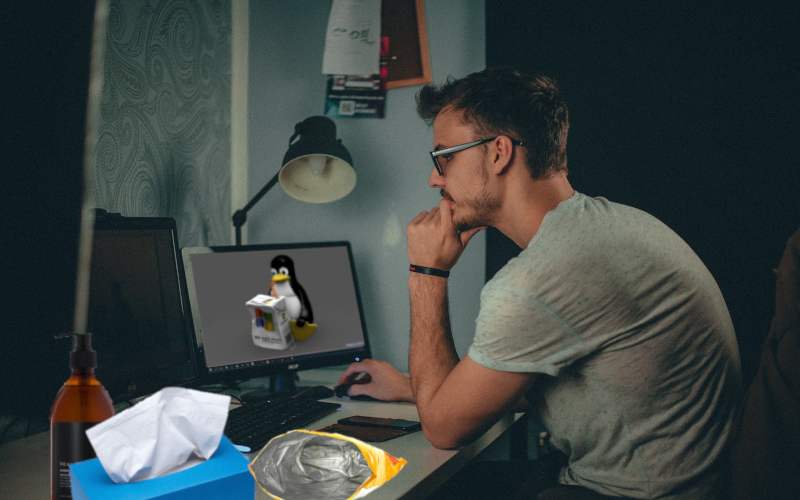 With an enthusiastic yet very obviously relaxed demeanour, local man Bruce Kane told reporters on Saturday that he was in no way concerned about Coronavirus, AKA COVID-19.
Speaking to reporters from a safe distance of ten meters, Mr. Kane, a recent Linux convert, said that he "had no idea what the fuss was about".
"First of all, why are you guys standing so far away from me?" he said. "But anyway, everyone keeps going on about this new virus. But who cares. Everyone knows only Windoze users get viruses, why should this be any different?"
We had for obvious reasons requested the interview with Mr. Kane be conducted via video link or VOIP, but he had declined, telling us that since his migration he couldn't get the Linux version of Skype to work with his microphone. Upon suggestions of alternative applications, he declined that option too.
"Look, honestly I'm still getting used to even using the package manager. I also spent ten days in my bedroom just trying to exit Nano," he had told us. "I've subsisted on nothing but Cheetos and Coke for two weeks now, but I finally got a usable desktop going."
When reporters asked if he had been self-isolating, he replied "What's that? Do you mean like chroot jails? I've been reading about those."
When asked about the distro he was running - "Oh, Arch Linux. I spent two hours using Ubuntu but that felt too mainstream. I heard Arch was pretty cool, so here I am. Plus, I figure it's even safer. Don't ask me to explain it, it's just the vibe of the thing."
So, what's next for Bruce Kane?
"I'll probably install Gentoo soon. Like, tonight. I mean Arch is still kinda popular and this Coronavirus thing seems to be trending a bit. I feel like I'm probably ready for that now (Gentoo). I mean how long could it take me?"
We wish Mr. Kane the best of luck with that.
#StayHomeInstallGentoo
---
Tags: